"Gun Free Zones" and Your Right to Carry
May 26, 2022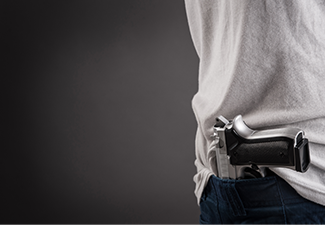 The state of Michigan is like most other states in that it institutes "gun free zones" for certain places as a means of public safety. Just about everyone I know has to deal with gun free zones.
The balance between your constitutional rights and the law is extremely complicated. You may want to carry your gun with you in the case you'd need it for self-defense, but it may be the wrong place to carry. When faced with legal action for carrying a firearm in public, an experienced attorney is vital to protecting your rights. My firm, Redmond Law Group, will fiercely advocate for your rights and has expert knowledge and resources surrounding our state's laws concerning "gun free zones." From my office in Troy, Michigan,
I proudly serve clients throughout Oakland and Macomb Counties.
What are "Gun Free Zones"?
As the name suggests, "gun free zones'' are certain areas where it is illegal to carry firearms.
Gun free zones hope to protect the individuals in those zones for safety purposes. The idea is to reduce or get rid of the risk of guns and gun crimes in these areas. Issues such as murder, suicide, unintentional death, or injury, are all worries for the people in those areas, and it's created for the safety of the general public. For example, to protect children in schools, guns aren't allowed in school to avoid possible accidents. Unfortunately, such laws do not stop criminals from entering gun-free zones with firearms. In Michigan, some of these gun-free zones include:
Schools or school property

Daycare centers, child-caring agencies, child-placing agency

Sports arenas or stadiums

Church property (any facility owned or operated by a place of worship)

Entertainment facilities with a seating capacity of over 2,500

Hospitals

Dormitories or classrooms of a college or university

Casinos
It's important to understand that even if you have a concealed pistol license (CPL) in these areas, any kind of gun is prohibited in these areas. If you aren't sure whether a place is safe to bring a gun, one option is to call the place before going.
Can You Carry in Gun-Free Zones?
There is no concealed carry protection for gun-free zones in Michigan. A person carrying a concealed firearm in a gun-free zone is unlawful, with the exception of the individual's personal legally owned spaces, such as their home or business. A concealed weapon is considered concealed if others are unable to see it in normal, daily activities or in a vehicle.
People are allowed to open carry firearms in public or concealed carry with a valid Concealed Pistol License and it's carried with lawful intent. Although there are no laws stating it's legal to openly carry a firearm, neither are there Michigan laws prohibiting it. Be informed about where you're allowed to carry the guns.
Protect Your Rights
It's important to follow and observe gun laws. Gun free zone laws in Michigan are especially important in that they purport to allow for a safe environment in numerous places. Violation of these laws can have serious consequences, including:
Lengthy prison sentences

Long-term inability to own a gun

Infliction of exorbitant court costs and punitive fines

Loss of professional license

Loss of employment

Lasting criminal record
Thus, it is important to work with an experienced gun rights attorney, and I'm here to be that lawyer for you. I diligently strive every day to protect and advocate for you and your rights to help you regain the right to carry your firearm. Gun laws can be complicated to understand, so it can help a lot to contact an experienced attorney with any questions you may have about the subject. I am here to answer those questions and guide you to protect and understand your rights. Contact my Troy, Michigan, office today to schedule a free initial consultation.