Understanding Gun Possession Laws and Traveling with a Gun
Aug. 29, 2022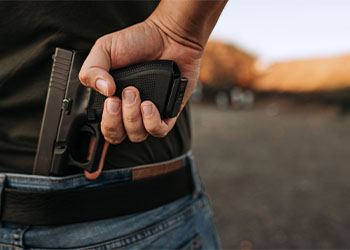 Gun ownership is protected by the U.S. Constitution and state law in Michigan. Michigan gun laws allow most adults to possess a firearm, and most are eligible to apply for a license at the country clerk's office, which clears them to purchase a handgun with a license and background check.
Even if you are fully authorized to possess a gun in Michigan, you may not be allowed to travel with it to another state. Since ignorance is no defense in the eyes of the law, you should do your homework before crossing a state line with your firearm.
At Redmond Law Group, I am current with federal and state gun laws, and I can help. Articles on the subject that I have authored have been used to shape laws. Moreover, I teach classes in conjunction with concealed pistol license (CPL) courses. If you need information about gun possession and travel in Troy, Michigan, and throughout Macomb County and Oakland County, reach out to a knowledgeable gun rights attorney.
What Are Michigan's Possession and Carry Laws?
Michigan is a "shall-issue" state. That means that with few exceptions, any adult can obtain a license to own a firearm upon application and completion of a background check. Any gun purchased must be registered with the state.
Any Michigan resident age 18 and older may open carry a gun so long as it is registered in their name. If you want to conceal carry, you must be a U.S. citizen, a resident of Michigan for at least six months prior to application, and be at least 21 years of age. Residency is established by a valid Michigan driver's license, Michigan voter registration, military active-duty status outside Michigan although a Michigan resident, or active-duty status in the state although a resident of another state. The CPL also requires the completion of pistol safety and use training classes.
Felony convictions and certain misdemeanor convictions within a specified period, mental health diagnoses and treatment, and a military dishonorable discharge will disqualify you from eligibility. Additionally, if you are prohibited by federal law from possessing a gun, that prohibition is recognized in Michigan.
Michigan does allow non-residents with a valid concealed carry permit from another state to possess a gun while in Michigan.
Where Can I Carry a Gun in Michigan?
With a valid gun license, you can open carry anywhere that is not prohibited by Michigan or federal law. However, if you hold a valid CPL, you can open carry in prohibited locations, but you cannot conceal carry. Law enforcement, security officers, and those given express permission to carry a firearm at a prohibited location are exceptions.
Where Are Guns Prohibited in Michigan?
Guns are prohibited at schools and daycares, hospitals, financial institutions, places of worship, courts, sports venues, bars, theaters, casinos, and secured areas in airports. Guns are also prohibited in vehicles unless you hold a valid CPL, although there are exceptions for transporting a gun for specific reasons, such as to and from a shooting range or when hunting.
Guns are prohibited anywhere that is not allowed by federal law. They also may be prohibited by specific businesses. For example, a hotel may have specific policies about open and concealed carry on their property.
Can I Travel with My Gun to Another State?
Traveling with a gun to another state is definitely something you should learn about specifically before you attempt to do so. Gun possession laws vary widely among states. However, with some states, Michigan CPL holders can take advantage of reciprocity rules.
Michigan enjoys reciprocity with more than 30 other states. That means if you have a valid CPL here, you may be allowed to carry in those states. Keep in mind that the specific rules may be different, such as allowing you only to open carry but not conceal carry while there.
Also, while traveling, you must remain vigilant of the gun laws of every state you pass through. For example, Missouri allows reciprocity, but Illinois does not. That means you cannot legally take your firearm through Illinois to get to Missouri.
You can see why it is a wise decision to consult with a practiced attorney about federal and reciprocity laws before you pack your gun for a trip.
Guidance You Can Trust
Gun laws are complicated, and you don't want to make assumptions about them. Know for sure if you are complying with all applicable laws.
As a gun crimes attorney in Troy, Michigan, I handle a wide range of gun-related cases, from license denials to reinstatements. I can also advise you on the laws here and wherever you may go. If you have questions about gun possession or travel, contact Redmond Law Group today to schedule a consultation. I proudly serve clients in Troy, Oakland and Macomb counties, Michigan.