What Happens When an Employment Contract Is Breached?
Oct. 29, 2021
If your business was accused of a breach of employment contract, you might wonder what happens next and what are the ways to defend your company against the claim. Even if you know that the accusations are far-fetched or false, you still need to act carefully to protect your business. Consider speaking with an attorney to explore the possible defense strategies to deal with a breach of contract claim with minimum damage to your company.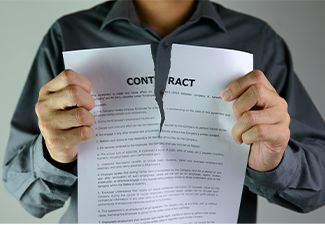 As a detail-oriented and reliable business litigation attorney in Troy, Michigan, I am prepared to represent your best interests and resolve the claim in an effective way. Over the past 15 years, I have provided my clients with practical solutions to complex legal problems, including breach of contract claims. At Redmond Law Group, I represent businesses and employers in Troy and throughout Oakland and Macomb counties.
What Is an Employment Contract?
An employment contract – also referred to as an employment agreement – is an agreement signed between an employer and employees. Employment contracts are legally binding for all parties who sign the agreement. An employment agreement may contain contractual obligations of the parties as well as the terms and conditions of employment, including:
Duties

Benefits

Pay rate

Hours worked

Overtime rules

Termination procedures

Confidentiality
Under Michigan law, a contract should contain clear and unambiguous language and must have an offer and acceptance to be valid and enforceable.
Common Employment Contracts That Are Breached
Technically, any legally binding employment contract that contains any contractual obligations may be breached. Common types of employment contracts that are most often breached include:
Continuous employment agreements

Full-time and part-time contracts

Zero-hour contracts

Fixed-term contracts

Freelance contracts

Gig-worker contracts

At-will contracts

Non-compete agreements

Confidentiality agreements
If your business is sued over an alleged breach of an employment contract, consider speaking with a knowledgeable business litigation attorney to defend your company, protect your reputation, and help you avoid financial losses and penalties.
What Constitutes a Breach?
A breach of contract occurs when one party in the contract fails to fulfill its contractual obligations. The wronged party filing a breach of contract claim must establish the following three elements:
The existence of a valid contract. The first element to establish is that the parties have a valid contract.

The breach occurred. The second element to prove is that the other party breached the contract by failing to uphold its contractual obligations.

The breach resulted in damages. Finally, the party filing a breach of contract claim must prove that they suffered damages because of the breach.
Possible Legal Remedies
The wronged party may receive compensatory damages and other legal remedies when they file a breach of employment contract claim and the breach is proven in court. Compensatory damages are the most common type of legal remedy awarded to the wronged party who prevails in a breach of contract claim in Michigan.
Compensatory damages are meant to compensate the wronged party for the financial losses suffered as a result of the breached employment contract. Other damages may also be available to the wronged party if they can prove that the other party failed to fulfill their obligations under the contract.
The wronged party can also enforce the specific performance of an employment contract. The statute of limitations for breach of contract claims is six years from the date of the last alleged breach.
How Redmond Law Group Can Help
Defending businesses against breach of contract or other claims requires a thorough review of the plaintiff's allegations and the circumstances of the dispute. As a business litigation attorney with more than 15 years of experience, I can help you understand how to defend yourself against a breach of employment contract claim. I am prepared to take the following steps to help you defend your business in an efficient manner:
Investigate the wronged party's claim.

Collect evidence to challenge the other party's allegations.

Handle all communications with the wronged party and their lawyer.

Find weaknesses in the wronged party's claim.

Identify the most effective defense strategy.

Handle all paperwork in your case.

Engage in negotiations with the other party.
Contact me if you need trustworthy and reliable legal representation in a breach of contract case. At Redmond Law Group, I am committed to aggressively defending your company to protect you from liability. Schedule a case review today so that I can advise you on your best course of action.